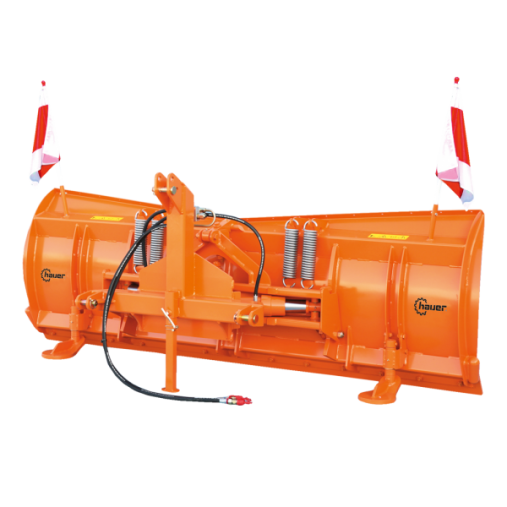 ONE BLADE; TWO APPLICATIONS
CLEARING AND GRADING
Rugged in build, our HS snow clearing and grading blades are perfect not only for clearing driveways, walkways and parking lots from moderate levels of snow but also for grading sand, soil and gravel. The optional rubber edge reduces wear and noise.
Hydraulic side adjustment by two rams, double pressure relief valve protected
Adjustable overload trip mechanism
Four return springs
Height-adjustable skid shoes
High-performance edge made from hard-wearing special steel; recessed bolts
Sturdy bumper guard fixed to the cutting edge
Warning flags
Short oil hoses with couplings

Steplessly height-adjustable super elastic wheels (on 2400mm+ blades)
GU 200 /40 rubber fabric edge
Snow clearing rubber edge
140mm blade extension
Lockable pendulum compensation
LED side lights
2 extra oil lines to the rear couplers
Adjustable trip mechanism
When the cutting edge hits an obstacle such as a gully, the overload mechanism trips and the blade moves up. At the same time its base moves to the rear, floating over the obstacle. Return springs return the blade into working position after the tractor has been halted or the blade raised. The tripping force is set steplessly to suit individual snow and ground conditions and the application at hand.