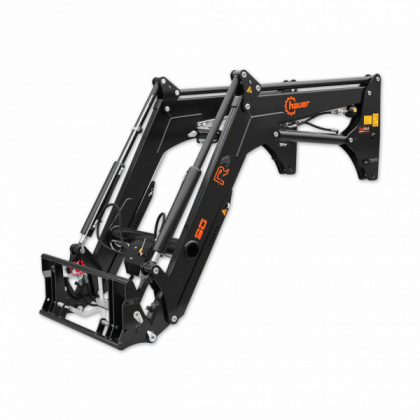 Hauer front loaders are used for many applications. Therefore, it is crucial to equip a front loader as universally as possible according to their needs. For this reason, Hauer offers a variety of accessories for its front loaders, such as hydraulic selection valves for operating implements, an SMS shock absorption system for cushion loads or else a safety package for the use of the working platform.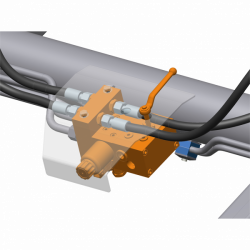 For easy operation of hydraulic implements
Further information ...
The valve block system of the POM-R can be modularly extended up to 2 additional hydraulic functions. This modular design makes the expansion of the valve system extremely easy. The standard couplings or the optional available synchro-lock with two couplings are ergonomically mounted on the right side of the quick change assembly.
SMS shock absorption system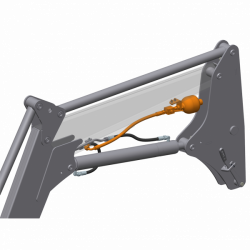 The SMS shock absorption system increases driving comfort and protect the front loader and the tractor.
Further information ...
The shock absorption system "SMS" reduces impacts that occur when driving on uneven terrain. It spares front loader, tractor and the driver.
The SMS system can be activated and deactivated with a shut-off valve.
It consists of a nitrogen filled accumulator that are subjected to a pre-set pressure to reduce shocks.
Load hook incl. attachment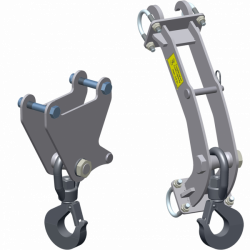 Stable load hook including attachment for mounting on quick change assembly Hauer or EURO.
Further information ...
The load hook is used with the front loader in the simplest way without additional equipment, e.g. to pick up big bags.
The swivel hook has a swivel range of 360° (endless).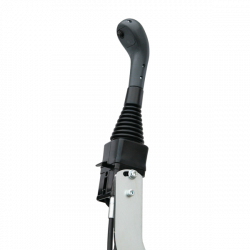 Mechanical control valve with bowden cables.
Further information ...
EASY HANDLING
WITH BOWDEN CABLES
Professional and economical loading is an important cost factor. Five functions are available by one hand movement and can be merged if required. Additionally, you can equip the joystick handle with 3 micro switches.
The mechanical control valve can be mounted under the tractor cabin or on the bracket, depending on the available space. It is controlled by bowden cables from the joystick.
Electrical control valve with sensitive response characteristics for professionals.
Further information ...
COMPACT DESIGN
ERGONOMIC CONSTRUCTION
Sensitive response characteristics, simple handling and professional equipment are particular strengths of the electro-proportional control unit "ELC ergo". The "ergo joystick" is a perfect combination of compact design and ergonomic construction. Based on the extensive serial equipment there are no limits for additional functions. Additional hydraulic valves for grippers or holding down devices and other comfortable functions, as the roll-back function for the implement and the front loader shock absorption system can be controlled by the joystick.
The shaking function for the implement is serially integrated on the "ELC-ergo". On request, there is an adjustable arm rest for optimal positioning available for standard tractor seats.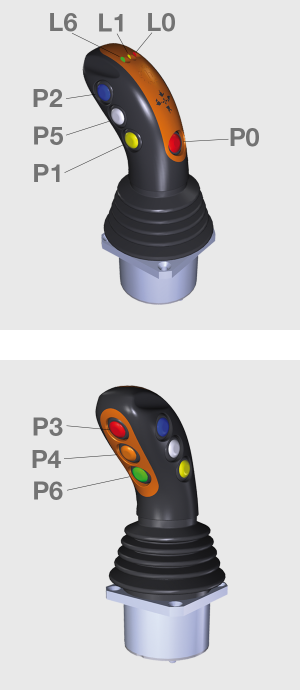 lifting / lowering
tilting / retracting
P0: ON / OFF button on joystick with control-LED (L0)
P1: floating position by button (P1) and control-LED (L1)
P2: roll-back – function (shovel return) *
P3: 1st hydraulic additional function with button* (f. gripper, holding down device, tongs, etc.)
P4: 2nd hydraulic additional function* (f. gripper, holding down device, tongs, etc.)
P5: shaking function for implement
P6: 3rd hydraulic additional functions* (electr. front loader shock absorption)
* IMPORTANT!
For operating additional functions, valves or sensors from the accessory program are necessary.
The "ergo-joystick" is serially equipped with all switches, buttons and control-LEDs.
For refitting optional functions, rebuilding of the handle is not necessary.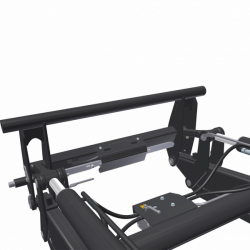 With a push of a button, the implements change hydraulically.
Further information ...
The hydraulic locking device is available for safety reasons only with two-handed operation. It is also available as a retrofit kit.
The locking cylinder is installed well protected by a cover.

ATTENTION!
An additional hydraulic function is required for operation.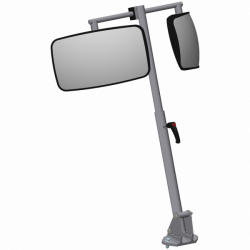 For safe entry into intersections.
Further information ...
To make driving with a front loader even safer in traffic, Hauer offers a mirror package which is mounted on the cross beam. Thus, an intersection can be viewed without having to retract into it. It consists out of two mirrors which are mounted on a telescopic tube to be individually adapted to each tractor.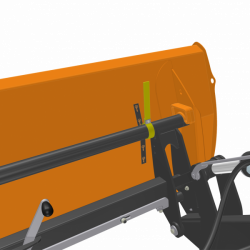 For quick and easy connection of implements.
Further information ...
With modern tractors it is difficult to have a view on the attachment points of the implement. Hauer now offers a simple and effective solution. The implement assistant consists out of a yellow strip of polyurethane which is attached to the quick-change device that acts as a pointer. On the implement side, a sticker in black or orange is attached to the back wall. Due to the color difference between the pointer and the sticker, the attachment points can be easily sighted. This guarantees easy and quick coupling of implements.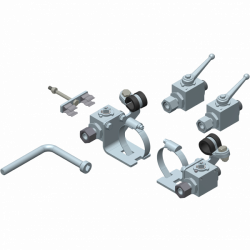 For safe use of the working platform.
Further information ...
The safety package consists out of two stopcocks for mounting in the tilting line and two stopcocks with throttle hole for mounting in the lifting line to reduce the lifting and lowering speed to 0,4 m / s.

Important:
The complete unit "tractor-front loader-working platform" has to be certified from a certifying organisation specified by local authorities again after mounting! Please consider, the local rules for the use and certification of the working platform.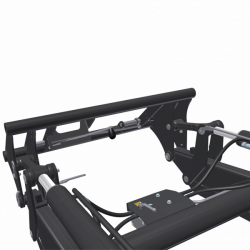 For connecting implements with SMS attachment to a Hauer front loader.
EURO-SMS quick change frame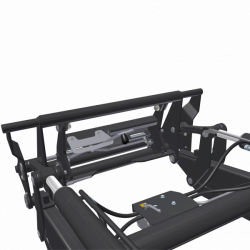 Combined quick-change assembly for connecting work implements with EURO or SMS attachment.
EURO-MX quick change frame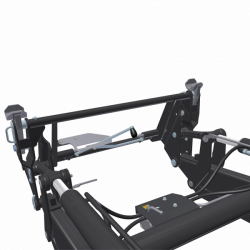 Combined quick-change assembly for connecting implements with EURO or MX attachment.
Multi-hose coupler - Synchro Lock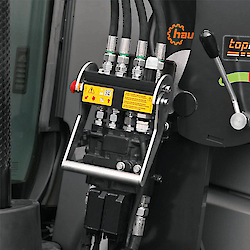 Quick and easy coupling of hydraulic and electrical connections.
Further information ...
Maximum comfort is provided by the Hauer Synchro-Lock multi-hose-couplers. All hydraulic lines and the electrical connection of the front loader can be coupled with just one hand with the Synchro-Lock.
These multi-hose-couplers can also be used on the implements and not only on the front loader. A particular advantage of the Synchro-Lock is, that the hydraulic connections can also be coupled under pressure.