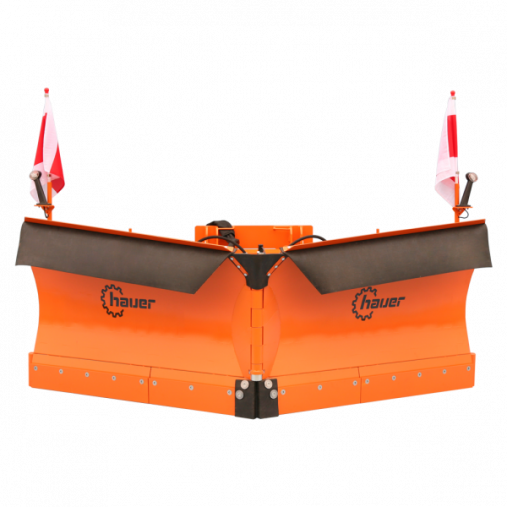 COMPACT AND UNIVERSAL
ON JUNCTIONS AND SQUARES
The variable VS-L snow plough is the universal plough for professional winter service applications. The VS-L is the specialist for snow removal in streets lined with gates and on public squares. The two blades move independently and can push snow in a Y position without throwing the material to the sides. The Comfort or Professional control system allows operators to move the implement into ploughing position quickly and easily. The pressure springs that trip only the cutting edge adjust to one of two suspension pressures.
HAUER, EURO 3/5 or VSS-A or VSS-B coupling plate
Three-point cat. 2
Height-control carriage for compact skid-steers
Two-piece snow plough with flared blades
Hydraulic blade control from a regular hydr. system (2 da spools)
Hydr. protection by pressure control valves and accumulator
Lift and press feature with adjustable top link (not for 3-point attachment)
Pressure spring protection, 2 pressure levels
Height-adjustable skid shoes
Lockable pendulum compensation
Screwed and hard-wearing scraping edges made from tempered high-performance steel (450 HB)
Hydraulic angling ready
Automatic levelling function (coupling plate only)
Massive side deflectors (replaceable)
Warning flags
LED side lights
Short oil hoses with couplings
Type / Width [mm]
VS-L
2400
VS-L
2600
VS-L
2800
VS-L
3000
VS-L
3200
Weight 3-point attachment [kg]
520
535
550
565
580
Working width at max. tilt [mm]
2020
2190
2360
2530
2700
Min. pass-trough width at max. tilt [mm]
2120
2290
2460
2630
2800
Max. width [mm]
2550
2750
2950
3150
3350
Pivot angle [°]
+/- 32,5°
+/- 32,5°
+/- 32,5°
+/- 32,5°
+/- 32,5°
Blade height centre / wings  [mm]
890/1000
890/1000
890/1000
890/1000
890/1000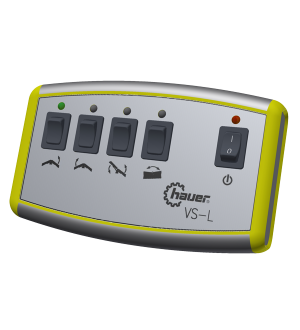 Steplessly height-adjustable super elastic wheels
Snow clearing rubber deflector
Snow dust curtain
Hydraulic blade control system incl. Professional control box for individual blade control in opposite direction – ploughing function (requires only 1 da spool)
GU 200 /40 rubber fabric edge
Küper FK-S scraping edge
Hydraulic 14°/14° left/right angling
indirect lighting