REAR LEVELING SCRAPER HP-2461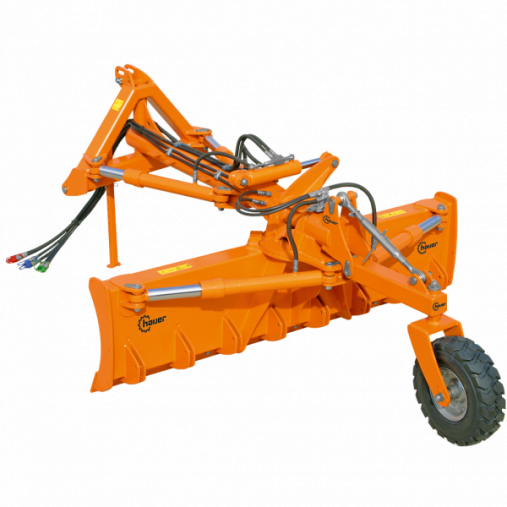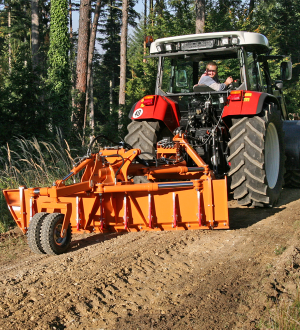 The rear leveling scraper HP-2461 from Hauer is ideal for the preparation and maintenance of paths and access roads in agriculture, forestry and municipal administration.
Designed for the heaviest jobs, the HP-2461 features professional design, extreme stability and universal usability.
With three hydraulic adjustment options, the rear leveling scraper can be optimally adapted to any work situation.
The trench depth can be changed with the rear hydraulics or with a hydraulically adjustable support wheel available on request.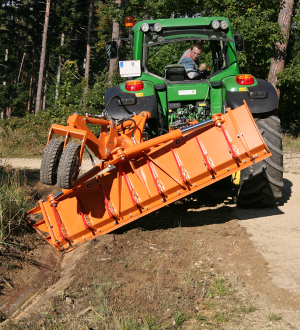 For off-center track work, the rear leveling scraper can be hydraulically pivoted 32º to the left or right.
The cylinders for the hydraulic lateral adjustment and the hydraulic pivoting are equipped with double shock safety valves.
The pivoting cylinders are additionally equipped with a check valve to ensure the stable position of the shield.
With the hydraulic horizontal adjustment, the slope of the shield can be adjusted precisely.
So that the exact positioning of the dozer blade is ensured here too, this function is also provided with a check valve. With these functions you can optimally clear up and form V-shaped ditches.
As a standard, the HP-2461 is controlled over 3 (4) double acting control units of the tractor. For vehicles with less control units or if the rear levelling scraper is used on different vehicles, there are alternative control and connection possibilities:
electromagnetical directional control valve at the rear levelling scraper (1, 2, or 3 valves)
electromagnetical control valve at the rear levelling scraper by joystick control (3 or 4 control valves)
external oil supply with pto pump and oil tank mounted at the rear levelling scraper (joystick control necessary!)

stable scoop in box tape design
high performance scrapping edge made from hardened steel (450 HB), with sunk screw heads
hydraulic lateral adjustment with double shock valve
hydraulic horizontal adjustment with check valve
hydraulic swing out device with double shock valve and check valve
continuous height adjustable supporting wheel, single tyring
prepared for rippers
prepared for widening parts on both sides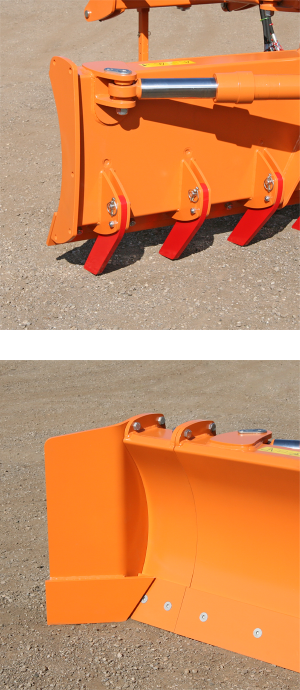 blade widening - straight:  bigger clearing width by screwed mounted blade widening parts for the left and/or the right side. Width: 200mm
blade widening  - diagonal: blade widening parts for making special slopes or for clearing of ditches. Available for left and right side.
rippers: of hardened, wear-resistant special steel (approx. 400HB). The rippers are protected by an overload protection. The preparation for the rippers is standard equipment.
discharge stopper: It avoids that levelling material gets lost on the sides. It is available as a straight and diagonal version.
hydraulic supporting wheel adjustment: in case the scraping depth / digging depth is not adjusted by the rear linkage.
twin supporting wheel