COMPACT DESIGN
ERGONOMIC CONSTRUCTION
Sensitive response characteristics, simple handling and professional equipment are particular strengths of the electro-proportional control unit "ELC ergo". The "ergo joystick" is a perfect combination of compact design and ergonomic construction. Based on the extensive serial equipment there are no limits for additional functions. Additional hydraulic valves for grippers or holding down devices and other comfortable functions, as the roll-back function for the implement and the front loader shock absorption system can be controlled by the joystick.
The shaking function for the implement is serially integrated on the "ELC-ergo". On request, there is an adjustable arm rest for optimal positioning available for standard tractor seats.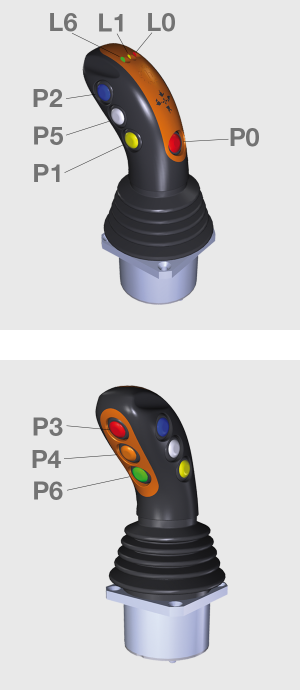 lifting / lowering
tilting / retracting
P0: ON / OFF button on joystick with control-LED (L0)
P1: floating position by button (P1) and control-LED (L1)
P2: roll-back – function (shovel return) *
P3: 1st hydraulic additional function with button* (f. gripper, holding down device, tongs, etc.)
P4: 2nd hydraulic additional function* (f. gripper, holding down device, tongs, etc.)
P5: shaking function for implement
P6: 3rd hydraulic additional functions* (electr. front loader shock absorption)
* IMPORTANT!
For operating additional functions, valves or sensors from the accessory program are necessary.
The "ergo-joystick" is serially equipped with all switches, buttons and control-LEDs.
For refitting optional functions, rebuilding of the handle is not necessary.