IN FROST AND ICE
FOR ANY TIME
The TS-2 spreader uses vanes to spread the material. The user-friendly implement is ideal for spreading material on streets, roads and parking lots. Developed with a focus on close attachment to the three-point linkage for optimum weight distribution, the implement offers the best possible ride on snow and ice covered surfaces. The TS-2 is available with a capacity of 0,7, 1 or 1,5 m³. Furthermore, the salt and gravel spreader is available with a host of optional equipment that suit the diverse requirements in professional winter service.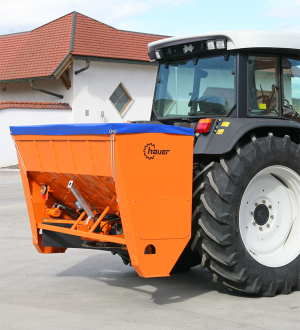 Optimum distribution of weight
Mounting the spreader closely to the tractor was a major target during development. This creates an optimum distribution of weight.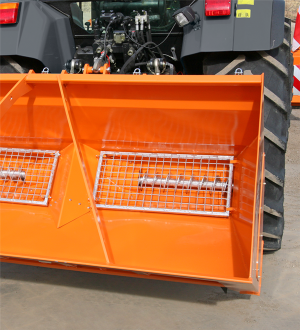 Perfect quality by high quality materials
The conveyor screw and the protective grid in the body of the spreader are galvanized, all other parts are galvanized and painted. Spreading plate and deflectors are made of stainless steel V4A.
Separate auger and vane drives; 1 hydraulic motor for each (requires 1 da spool)
Manual spreading pattern control by adjusting the deflector
Manual spreading rate and width control via spools
V4A stainless steel vanes and deflector
Galvanised auger and hopper grid
Strong, galvanised and paint-coated hopper base
Full-width rubber curtain protects the vehicle
High-quality, long-lasting and low-energy LED road lights
Stand
| | | | |
| --- | --- | --- | --- |
| Type | TS-207 | TS-210 | TS-215 |
| Weight [kg] | 500 | 550 | 600 |
| Width [mm] | 2020 | 2020 | 2020 |
| Hopper volume [m³] | 0,7 | 1 | 1,5 |
| Spreading width [mm] | 1-8 | 1-8 | 1-8 |
| Salt spreading rate [g/m²] | 0-50 | 0-50 | 0-50 |
| Gravel spreading rate [g/m²] | 0-200 | 0-200 | 0-200 |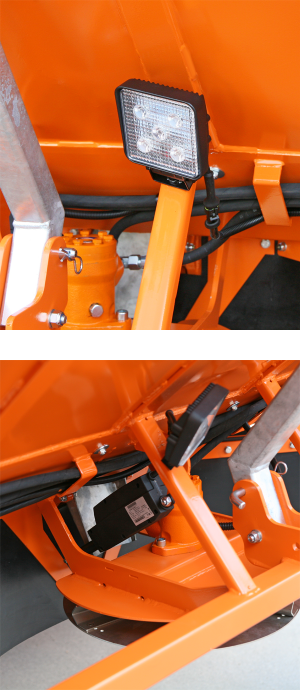 TS-W proportional micro-processor based control irrespective of forward speed
(requires a standardised signal socket or a speed sensor)
Forward speed sensor for proportional TS-W control irrespective of ground speed
(required in lack of signal socket)
Electronic proportional TS-N control for straightforward spreading rate and width control
Electric spreading pattern control
Hydraulic self-loading system (requires 1 extra da spool)
Tarp cover
Remote oil supply by pto pump
V4A stainless steel auger
Work lights (require TS-N / TS-W)
Outside temperature display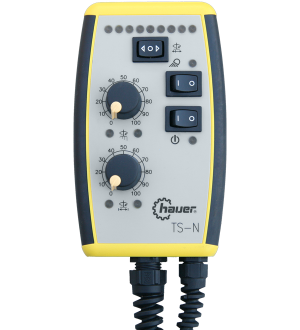 Proportiobal control unit "TS-N"
Electronic operation for the tractor cabin; microcontroller with adjustable values of spreading quantity and spreading width, ON/OFF switch, switch for working lights (optional), and regulation of the optional electrical spreading pattern adjustment with LED positioning display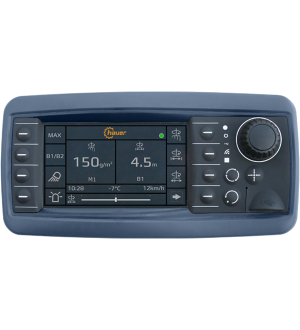 Path-dependent control unit "TS-W"
Electronic operation for the tractor cabin  with 4,3" TFT-colour display and button lighting; Microprocessor controls with 1GB memory, CAN-BUS connection to the spreader, USB connection for read-out and documentation of the distributed spreading material, as well as for updating the spreader software; adjustment possibilities for spreading quantity, spreading width and spread pattern adjustment,  presetting of 4 different types of spreading material, mixtures, each with 2 different presettings for spreading quantity – available at the push of a button, switch for working lights and flashing light, MAX-button for short-time maximum flow of spreading materials, possibility of integration of a GPS receiver;
Standardized signal socket has to be available on the tractor!